From the Shelf
The Growth of the Groove
Musician and journalist Max Décharné's Vulgar Tongues: An Alternative History of English Slang, out now from Pegasus Books, is a rip-roaring ride through the history of slang. From Elizabethan London to the present day, this entertaining take will not disappoint. Here's Décharné's write-up on the word "groovy"--which, interestingly enough, has very little to do with Austin Powers and his ilk.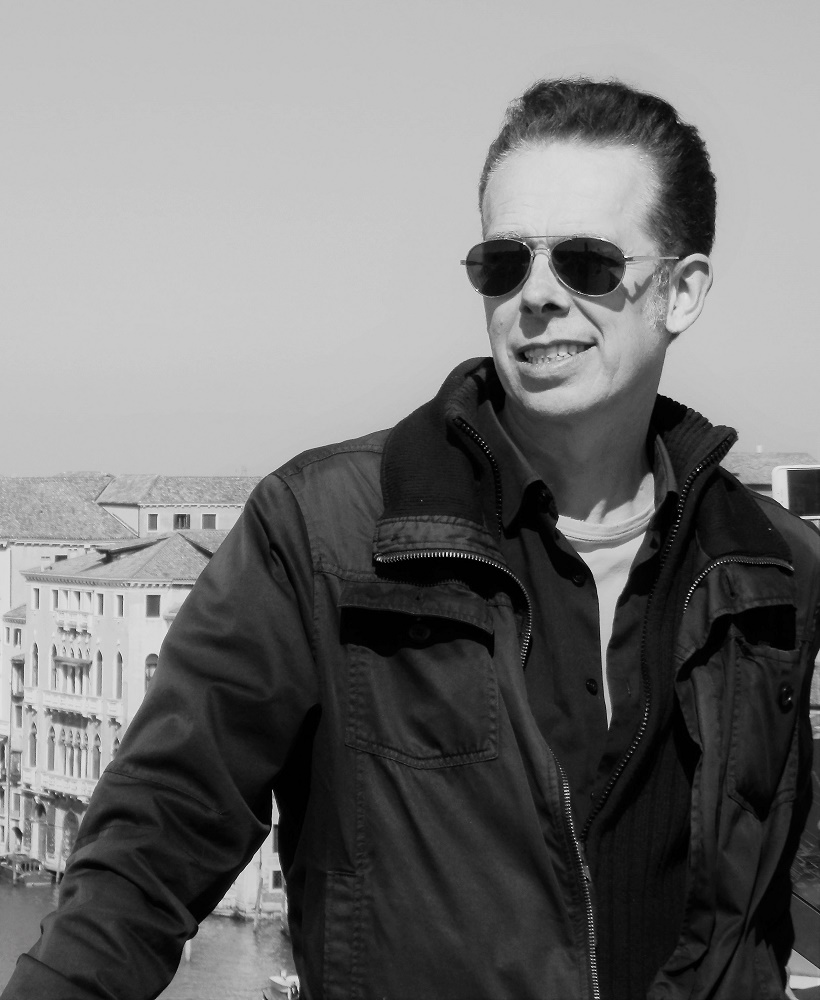 photo: Katja Klier
Many people probably assume that the word "groovy" is a classic piece of 1960s slang. In fact, it actually began life as the hip new jazz word of the early 1940s, batted around carelessly by bebop musicians and pulp novelists.

Crime writer Chester Himes used the word in his first book, If He Hollers, Let Him Go (1945), while in jazz clarinettist Mezz Mezzrow's landmark memoir, Really the Blues (1946)--which contained a wealth of musicians' phrases like "cafe sunburn" (the habitual pallor acquired in such a nocturnal environment) and "hipster" (defined as "someone who's in the know, grasps everything, is alert")--the word "groovy" was defined as "really good, in the groove, enjoyable." A phonograph needle playing the music correctly was in the groove, and so was a band that was swinging. Bing Crosby memorably asked the King Cole Trio during his regular Kraft Music Hall radio show in those days: "Say, is it a solid fact that you guys can beat your chops, lace the boots and knock the licks out groovy as a movie, whilst jiving in a comin'-on fashion?" Nat Cole suavely replied, "That is precisely the situation."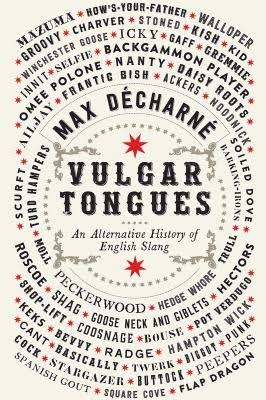 Jazz music spread jazz slang across the globe, which was then adopted by the Beats, co-opted by 1950s rock 'n' rollers (Johnnie Shelton & His Rockabillies had a 1958 song praising a hangout named "Groovy Joe's") and finally enshrined in popular culture in the 1960s with the spread of jazz-derived hippie language. Everything was indeed groovy.
Few people, however, knew of the completely opposite slang meaning of the word in late Victorian England, where it applied to someone stuck in a groove, or a rut--in short a square--as defined in Farmer and Henley's Slang and Its Analogues (1890): "GROOVY, Adj. – Settled in habit; limited in mind."

In this Issue...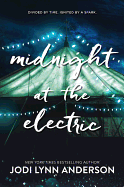 Sixteen-year-old Adri, preparing to colonize Mars in 2065, finds her life is surprisingly interconnected with two women from long ago when old letters come to light.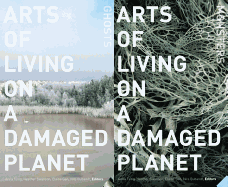 by Anna Tsing , Heather Swanson , Elaine Gan , Nils Bubandt
A stunning collection of essays from scientists, writers and artists on humankind's impact on the planet, and how we all can survive it.
Review by Subjects:
Fiction ⋅ Mystery & Thriller ⋅ Romance ⋅ Food & Wine ⋅ Social Science ⋅ Nature & Environment ⋅ Sports ⋅ Children's & Young Adult ⋅ Performing Arts

From Rainy Day Books
Upcoming Events
Mystery Book Club Discusses A Lonely Place by Dorothy B. Hughes
06/25/2018 - 6:30PM
EVENT OVERVIEW AND FORMAT: Rainy Day Books will Present an In-Store Book Club Discussion of A Lonely Place by Dorothy Hughes. Becci West, Manager, will lead the discussion of A Lonely Place. ABOUT THE BOOK: A classic California noir with a feminist twist, this prescient 1947 novel exposed misogyny in post-World War II American society, making it far ahead of its time. Los Angeles in the late 1940s is a city of promise and prosperity, but not for former fighter pilot Dix...
Rainy Day Books Book Club Discussion of Saints for All Occasions by J. Courtney Sullivan
07/09/2018 - 6:30PM
EVENT OVERVIEW AND FORMAT: Rainy Day Books will Present a Book Club Discussion of Saints for All Occasions by J. Courtney Sullivan. Mary McBride, Bookseller will discuss Saints for All Occasions in detail with the Attendees. ABOUT THE BOOK: A sweeping, unforgettable novel from The New York Times best-selling author of Maine, about the hope, sacrifice, and love between two sisters and the secret that drives them apart. Nora and Theresa Flynn are...
Thomas Frank will present Rendezvous with Oblivion: Reports from a Sinking Society
07/17/2018 - 6:30PM
EVENT OVERVIEW: Thomas Frank will Present his New Hardcover Rendezvous with Oblivion: Reports from a Sinking Society. ABOUT THE AUTHOR: Thomas Frank is the Author of Listen, Liberal, Pity the Billionaire, The Wrecking Crew, and What's the Matter with Kansas. A former Columnist for The Wall Street Journal and Harper's, Frank is the Founding Editor of The Baffler and writes regularly for Salon. He lives outside Washington, D.C. ABOUT THE NEW BOOK:...
Rachel Devlin will present A Girl Stands at the Door: The Generation of Young Women Who Desegregated America's Schools
07/18/2018 - 6:30PM
EVENT OVERVIEW: Rachel Devlin will Present her New Hardcover A Girl Stands at the Door: The Generation of Young Women Who Desegregated America's Schools. ABOUT THE AUTHOR: Rachel Devlin is an Associate Professor of History at Rutgers University. She lives in Brooklyn, New York. ABOUT THE NEW BOOK: A new history of School Desegregation in America, revealing how girls and women led the fight for interracial education. The struggle to desegregate America's...
Daniel Silva will Present his New Hardcover Thriller ~ The Other Woman ~ featuring Gabriel Allon
07/20/2018 - 3:00PM
EVENT OVERVIEW: Daniel Silva, New York Times Bestselling Author will Present his New Hardcover Thriller The Other Woman, the 18th adventure in his Internationally Bestselling Spy Thriller Series featuring Gabriel Allon. This Event is Co-Presented by Rainy Day Books & Mid-Continent Public Library. ABOUT DANIEL SILVA: Daniel Silva is the award-winning, #1 New York Times bestselling author of The Unlikely Spy, The Mark of the Assassin, The...
Beatriz Williams will Present her New Hardcover Novel ~ The Summer Wives
07/23/2018 - 7:00PM
EVENT OVERVIEW: Beatriz Williams, New York Times Bestselling Author, will Present her New Hardcover Novel The Summer Wives. This Event is Co-Presented by Rainy Day Books & Mid-Continent Public Library. ABOUT BEATRIZ WILLIAMS: Beatriz Williams, A graduate of Stanford University with an MBA from Columbia, spent several Years in New York and London hiding her early attempts at fiction, first on company laptops as a communications strategy...
Book Candy
Book Lovers' Travel List
Bustle explored "10 cities every book-lover needs to visit in their lifetime."
---
Mental Floss searched for "10 characters left out of the movie versions of popular books."
---
Flavorwire shared "20 Maurice Sendak quotes on writing, art & literary heroes."
---
"Time after time: why modern authors continue to adapt Jane Austen" was examined by Signature.
---
Buzzfeed challenge: "Only Game of Thrones book readers can get 10/13 on this quiz."
---
The Whale Vilma is a bookcase from Villo Design "for children that can be used as a place to take a seat," Bookshelf noted.

Great Reads
Rediscover: The Children of Men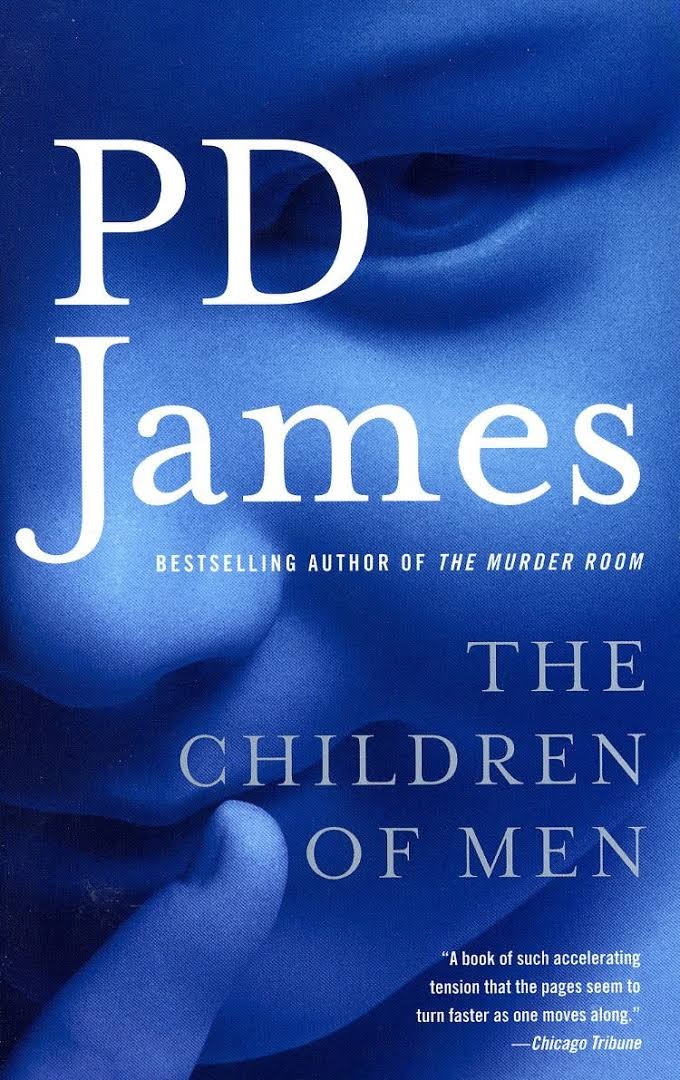 Book lovers seeking a less traditional Father's Day read need look no further than The Children of Men by P.D. James (1992), a literary dystopian novel set in England nearly 30 years after every human on Earth was rendered mysteriously infertile. James (1920-2014), best known for her mystery novels featuring Detective Chief Inspector Adam Dalgliesh, imagines a society without hope for the future, in which most citizens have lost interest in politics--allowing the dictatorial but supposedly egalitarian Warden of England to seize power.

Theo Faron, a professor at Oxford University, is the Warden's estranged cousin. The novel opens with one of his diary entries (later switching between these accounts and third person), introducing the despairing facts of this fatherless future: social lethargy, a savage penal colony on the Isle of Man, half-sane denied mothers raising lifeless dolls, ill-treated guest workers, mass "suicide" of the infirm elderly, and compulsory reproductive checkups, among a litany of other grim omens. Still, Theo manages to trudge on, despite his possibly dangerous extended family and crumbling society, until a group of amateur dissenters called the Five Fish net Theo into a dangerous scheme.

In 2006, The Children of Men was adapted into a superb, if drastically different, film by Alfonso Cuarón (Gravity) starring Clive Owen. The novel was last published by Vintage that same year ($15.95, 9780307275431). --Tobias Mutter
Shelf Sampler
Excerpt: MatchUp: The Battle of the Sexes Just Got Thrilling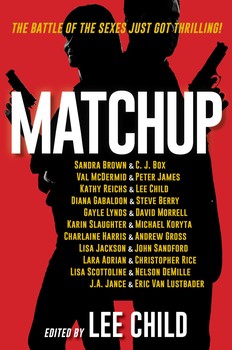 What do you get when you pair 11 of the top female thriller writers with their male counterparts? MatchUp (Simon & Schuster, $27), a thrilling collection of short stories that includes such greats as Kathy Reichs, Lee Child, Lisa Scottoline and Nelson DeMille. To whet your appetite, here's an exclusive excerpt from J.A. Jance and Eric Van Lustbader's story "Taking the Veil."
BLACK HILLS, ARIZONA
1601
FRA IGNACIO WAS TIRED--EXHAUSTED, REALLY. HE AND HIS FIVE fellow Jesuits had been on the run for the better part of a year. They had started in the Holy Land, where they had been sent on a secret mission by Pope Clement VIII to bring back to Rome the fabled Sudarium--the Veil of Saint Veronica--the cloth used to wipe the blood and sweat from the brow of Jesus on his way to the Crucifixion, imprinting his face on the fabric. He had been told that it had been unearthed in the Sinai by tomb raiders who had no idea of its significance to the Holy See, to the church itself.
Clement VIII had bought the holy relic from a merchant in the Levant. Fra Ignacio and his group had been dispatched from Rome to fetch it since the Holy Father trusted no one other than his beloved Jesuits to ensure that this Veronica, as it was sometimes called, was the genuine article as, over the years, any number of fakes had been foisted upon the Vatican.
He made contact with the merchant and the judicious biblical scholar, who had authenticated the Veronica for Clement VIII. He never saw the veil itself, for it was already housed in a quiverlike cylinder made of zinc, clad in three layers of copper, with a watertight seal at one end. Twelve days after arriving in the Levant, they made their way back to the ship Clement VIII had provided for them.
But luck was not with them.
Before they could board their ship with the treasure, they were ambushed and attacked by a band of thieves who had stolen the veil and boarded a waiting pirate ship. Fra Ignacio's ship had pursued the pirate vessel across the full length of the Mediterranean, out into the Atlantic through the Straits of Gibraltar, and all the way to the pirates' base in Honduras where his crew had retrieved the veil in a daring nighttime raid. With the veil in hand and their ship resupplied they had set off for home, only to be blown off course by a hurricane and left shipwrecked off the coast of Texas.
Stranded off the coast of the vast New World, he took the veil along with the few surviving members of his crew and headed north through the Rio Grande Valley. Turned away by the priests at the mission in Albuquerque but now reprovisioned and with horses and pack mules, they turned westward toward California.
Days later, after crossing through a red-rock-lined valley and in the face of an early winter storm, they had holed up for several days in a limestone cavern under a thick canopy of ponderosa pines. Late in the day, they said their prayers, then ate a meager dinner. Afterward, Fra Ignacio left the others, moving deeper into the cavern where he had buried the Veronica case upon arriving. It took all his strength to move aside the protective boulder he had used to conceal the treasure. Then, as he did every evening at this time, he placed his trembling hands around the cool copper protecting the relic.
It was at that precise moment he heard screams and pleas for mercy coming from the men he had left behind near the cavern's mouth. He heard the soft whir of shot arrows, the clink of obsidian against rock, and knew a band of marauding Apaches had found them.
Returning the veil to its hiding place and rolling the boulder back into position, he kissed the rock before retreating deeper into the cavern. His torch guttered, and the way grew dim. Eventually utter blackness engulfed him. He slowed his pace and paused, waiting for his eyes to adjust.
Suddenly, without warning, he was grabbed from behind.
His throat was slit with the blade of a hunting knife.
BLACK HILLS, ARIZONA
PRESENT DAY
MARTIN PRICE LOVED AMERICAN INDIAN ARROWHEADS. OVER THE years he'd amassed an impressive collection. One were more beautiful than the Apache obsidian arrowheads, masterfully chipped and honed to razor sharpness. So it was no surprise when he saw the glint of chipped obsidian on the floor of the limestone cavern adjacent to an abandoned glory hole. The hopeful miners from years past who'd dug the test hole must have left the place empty-handed and disappointed.
Not Martin.
Seeing the almost perfect arrowhead and slipping it into his pants pocket lifted his spirits. They needed lifting because he and his two fellow Gnostic Observatines had been up here in the wilds of the Black Hills, high above Sedona and Jerome, for over a week now without finding what had purportedly been hidden here since the beginning of the seventeenth century.
The veil of Saint Veronica.
So many fakes had surfaced over the centuries that the Vatican had given up all hope that the Veronica still existed. But Bravo Shaw, the head of the Gnostic Observatines, a lay splinter sect of the Franciscan Observatines, had received information from one of his many worldwide sources not only that the Veronica existed, but that it was hidden in a limestone cave somewhere in Arizona's high desert country. A diary entry found in the Vatican, purportedly written by the sole survivor of Fra Ignatio's doomed expedition verified that fact. But the story of the Veronica ending up in Arizona had seemed far too preposterous to be believed.
By everyone, but Bravo.
He'd dispatched Price and his companions to go in search of both the cave and the veil. It was early November, about the same time of year when, according to the diary, Fra Ignatio and his men had been slaughtered. It was cold, and after weeks of rough living and of finding nothing, Price's companions were growing restless, itching to get back to the warmth and comfort of their San Francisco headquarters.
But Price's luck had changed when he had asked a group of elk hunters about the existence of a limestone cavern, and they'd directed them here. There were plenty of signs of human presence. Empty beer cans, tobacco cans, paper wrappers, a fire pit. And yet the arrow had somehow escaped everyone else's notice.
Was it a sign that had been meant for him alone?
Thoughtfully, Price stood where he was and used his Maglite to examine his surroundings, looking for something to speak to him, but there was nothing. If the solid limestone walls around him held a secret, they weren't telling. Moving deeper in the cavern, he heard the steady drip of water and saw the ghostly forms of looming stalactites and stalagmites. Looking at them rather than watching his feet, he stumbled over a boulder. As he struggled to regain his balance, the boulder moved. The movement was minuscule, but it was enough to tell him that the rock wasn't a natural part of the cavern itself.
It seemed separate.
Had it been put there deliberately and for a reason?
Was that even possible?
With his heart rate climbing, he dropped to his knees and shoved against the rock with all his strength. With that much pressure exerted the boulder moved with surprising ease, revealing a hand-dug depression below. The beam of his flashlight illuminated the verdigrised surface of a metallic curved object. He had been told that the Veronica was preserved in a copper-clad cylinder. On the ground next to the cylinder lay a pile of beads and an ivory crucifix. He scooped up the crucifix and slid in in his pocket.
Two screams resounded through the cavern.
Book Reviews
Fiction
Knopf, $26.95, hardcover, 352p., 9780307959577
Knopf, $24.95, hardcover, 224p., 9781524731748
Mystery & Thriller
Titan Books, $14.95, paperback, 352p., 9781785652783
Romance
Sourcebooks Casablanca, $7.99, mass market, 320p., 9781492630760
Food & Wine
The Experiment, $24.95, paperback, 288p., 9781615192663
Social Science
Penguin Press, $28, hardcover, 384p., 9781594206559
Nature & Environment

University of Minnesota Press, $27.95, paperback, 368p., 9781517902377
Sports
Random House, $28, hardcover, 352p., 9780812997194
Children's & Young Adult

HarperTeen, $17.99, hardcover, 272p., ages 12-up, 9780062393548
Penguin, $17.99, hardcover, 48p., ages 7-10, 9780670016532
Performing Arts
Microcosm, $7.95, paperback, 96p., 9781621063032
--- SPECIAL ADVERTORIAL OFFERINGS ---

Everything I Know About You


by Barbara Dee


Dear Reader,

Like my award-winning 2017 middle grade novels, STAR-CROSSED and HALFWAY NORMAL, my newest, EVERYTHING I KNOW ABOUT YOU, treats a serious topic--tween eating disorders--in an entertaining, kid-friendly way. During the seventh grade trip to Washington, math nerd Tally suspects roommate Ava has an eating disorder. Is Ava's secret hers to keep?

Elly Swartz (Smart Cookie) calls EVERYTHING, "A beautiful and meaningful book that will be loved by many and needed in school libraries."

"A poignant and hilarious slice of middle-grade life." -- Kirkus

Happy reading!

Email barbara@barbaradeebooks.com to enter to win a copy.

Barbara Dee






PUBLISHER:
Aladdin/S&S

PUB DATE:
June 19, 2018

ISBN:
9781534405073

TYPE OF BOOK:
Middle Grade

PRICE:
$17.99
Summer Supper


by Rubin Pfeffer


Dear Reader,

SUMMER SUPPER sees stars! "Vivid colors, a multiracial cast, and seamless alliteration make this book a wonderful read."—*Kirkus. "…this farm-to-table picture book is a lively classroom read-aloud choice."—*Booklist.

I'm fascinated by the way picture books magically merge story, information, illustration, and design into a reading experience. SUMMER SUPPER was an idea planted by rolling an alliteration in my head of "sun, soil, seed" and letting that grow into the full story of a joyful group whose hard work and tender care yield bountiful meals and reasons to be to be thankful. " a vibrant celebration of gardening, nature's bounty, family, cooperation—and the letter S." I hope readers will eat this up and agree that it's "a simple, satisfying—and ultimately sweet—offering." —Publishers Weekly.

Rubin Pfeffer






PUBLISHER:
Random House

PUB DATE:
May 8, 2018

ISBN:
9781524714642

TYPE OF BOOK:
Picture Book

PRICE:
$17.99